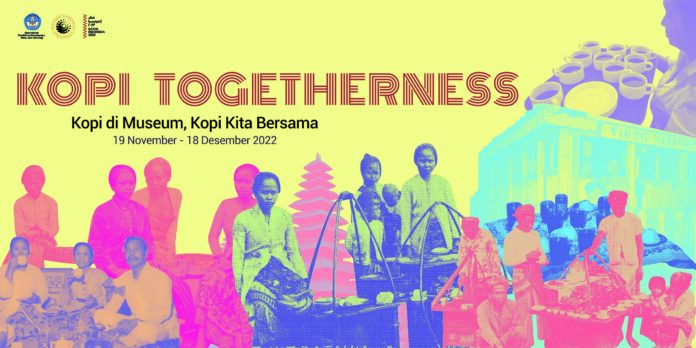 CURATORIAL
Kopi Togetherness
Coffee at the Museum, Coffee for Us All
It is undeniable that coffee, as a beverage and consumer product, is an indispensable part of today's global society. To talk about coffee is to talk about something universal, containing multiple aspects of life and representing a global subculture of its own, in addition to being one of Indonesia's prima donnas of the agricultural sector and natural resource processing. History records how coffee and its cultivation in the archipelago, apart from spices and sugar, were an important part of the formation of the Indonesian nation, which has grown to become a part of contemporary culture today.
Having previously explored the Spice Route, the Directorate General of Culture, Ministry of Education, Culture, Research, and Technology of the Republic of Indonesia, is organizing the 'Kopi Togetherness' exhibition and festival, which is also the kick-off of the bilateral cooperation between Indonesia and Qatar. Throughout 2023, Indonesia will become a partner country for organizing the Qatar Year of Culture. Indonesia and Qatar will promote each other's cultural wealth throughout this program. Indonesia's cultural wealth will be exhibited in Qatar and, vice versa, Qatar's cultural wealth will be exhibited at numerous cultural events in Indonesia. Both countries have agreed to raise coffee as a main theme. The coffee culture of Indonesia will be exhibited for six months at the Qatar National Museum, accompanied by assorted events.
'Kopi Togetherness' is an effort to present coffee from differing sides of history, natural life and environment, and the Indonesian culture, with togetherness being the umbrella, inviting the public to celebrate the Togetherness of Coffee from the Earth, Culture, and People of Indonesia, by exploring the narratives of relations between Indonesian people and coffee.
The 'Kopi Togetherness' exhibition is divided into five sub-themes: Kopi Bumi (Earth Coffee), Kultur Kopi (Coffee Culture), Coffee Today (Kopi Kini), Kopi & Kita (Coffee & Us), and Kopi Merdeka (Independence Coffee). Kopi Bumi highlights coffee's relations as an agricultural resource that contributes to and sustains the environment, and people's and communities' efforts to empower it. Kopi Kultur raises aspects of culture, history, and local wisdom that emerge in many corners of the archipelago. Kopi & Kita and Kopi Kini present narratives of daily life, creativity, and social life linked up by the Indonesian coffee scene.
These five sub-themes are presented in a series of installation works by six artist communities/collectives specially invited to respond to 'Kopi Togetherness': the electronic musician duo Bottlesmoker, the graffiti and street art community Mahavisual (featuring Stereoflow, Alphabad, Popo Mangun, Yessiow, and Gardu House), the Ugahari architecture collective, the archipelago sketchers network Indonesia Sketchers, the artists and performing arts groups Paguyuban Gegerboyo, and a network of coffee activists who are Filosofi Kopi's trained partners: Komunitas Jenama Kopi (featuring Smesta, Popsiklus, Gunagoni, Debbybyday, Koleksi Karta, Denim Craft, Seniman).
The collection and archive exhibition 'Kopi Merdeka' presents a series of artifacts and archives from the Indonesian National Museum in collaboration with the Bogor Palace, museums, coffee shops, and archive centers in the national-international network of Museums and Cultural Heritage of the Ministry of Education, Culture, Research, and Technology of the Republic of Indonesia. This sub-theme tries to offer another side of and a new perspective on coffee's historical record as part of the Indonesian nation's history.
The 'Kopi Togetherness' exhibition is also accompanied by a festival that brings forward a series of public programs to present the knowledge, entertainment, and celebration of Indonesian coffee with a network of coffee producers, activists, and fans, running every day for a month from 19 November to 18 December 2022.
We look forward to welcoming you to have coffee together at the National Museum of Indonesia!
Kopi dan Bumi
Neverland Qualia
Mixed media, sound installation, electronics
2022
Coffee has become part of human life in various ways. Brewed coffee accompanies human activities, the aroma of coffee calms the human mind, coffee tree trunks are created for human needs, and coffee provides a living for humans. Neverland Qualia is a 'vehicle' of a collection of interpretations of someone's experience in entering the life of a coffee tree. It starts with the underworld, the universe of the soil that gives life to the coffee tree. It tells about the happiness of living side by side with coffee. It tells about the hope for humans to continue to care for the land for the sake of living together. Neverland Qualia ends by entering the upper world where coffee beans have left their homes to live side by side with humans on terraces, kitchens, coffee shops, factories, mountains, oceans, and so on. In the upper world, coffee keeps on telling stories. Through its distinctive sound when being ground, brewed, and sipped, it hopes that humans will not forget it. With the joyful aroma of the grounds, it tells stories through captivating patterns of togetherness. Through the caffeine content, the liquid coffee spreads happiness with a beautiful melodic tune. Entering the upper world above and the underworld, coffee offers a harmonious living experience in two different worlds.
Bio
Bottlesmoker is Anggung Suherman (Angkuy) and Ryan Adzani (Nobie), an electronic music duo/group project from Bandung founded in 2006. Electronic music for them is an exploration of local rhythms and objects around them, from sounds on the streets to traditional music rhythms to plants as sound media. All of these can be combined to form various layers of electronic music: tribal music, techno, pacific vibe, psychedelic, downtempo, and ambient.
In its journey, Bottlesmoker has played many festivals in various countries, such as Laneway, Transmusicales, Big Mountain Music, Playtime, Jai Thep, and many others. Several times, Bottlesmoker has also opened for bands such as Ladytron, Architecture in Helsinki, Battles, to M83. In 2017, the album Parakosmos started the duo's journey to explore traditional Indonesian music combined with electronic music. The album received good reviews from the media such as Rolling Stone, Vice, House of London, 4zzz Radio, and Mashable.
Bottlesmoker continues to experiment with creative processes, adapting traditional music play patterns and sampling ritual recordings while also developing music for plants. In 2022, Bottlesmoker is introducing its fifth album, Puraka, which tells about human arrogance towards nature.
Team
Artist: Bottlesmoker (Anggung Suherman & Ryan Adzani)
Production: Fery Suryana, Ridwansyah Supriatna
Graphic Designers: Agung Triadi, Roni Tresnawan
---
The Non-Standard: Five Indonesian Coffee Packages (of Perception) in Installation
Mixed media
2022
This installation work is an attempt to present writings about perceptions of coffee in the daily trajectory of people joined as citizens of the nation of Indonesia. The emergence of coffee as a plantation industry is connected with the birth of Indonesia as a former colony. In its journey of relations to farmers, urbanites, traders, and also urban lifestyles, coffee gives birth to a multitude of perceptions as well as cultural products that are unique to the former colony society.
This installation work responds to confined spaces, the "smoking area" gaps, in the National Museum building. The five installation packages stand on their structures, in the gap areas of densely contiguous buildings that do not provide a structural system for "the other" to live or join. It's a typical urban structure, which also became a fundamental trait of the coffee plantation industry and commodities since cultivated for the first time in the colony.
It was a massive structure that formed the bedrock of the coffee plantation industry, coffee processing, and coffee commodities that was known as the global coffee standard, which was not accessible to just anyone. Only owners of large capital, owners of vast lands, owners of coffee processing technical equipment, and also masters of coffee distribution networks, would be able to meet the global coffee production and distribution standards.
Bio
Komunitas Ugahari is a network of individuals across circles and disciplines who are brought together from moments of constructing buildings, cultivating land, and responding to landscapes. These work moments have been emerged and shaped through integral, contextual, and multi-layered processes, based on the values ​​and perspectives of ugahari ('modest', 'moderate'). The word ugahari summarizes the perspectives, mechanisms, and political attitude of the cultural work practices in the building-construction, land cultivation, and response to landscape that are beyond market reasoning—moving in the cracks of the pressure of the (global) market system, the state, and modernity.
Carpenters, masons, formal school graduates, building occupants, land owners, tillers, welders, material collectors, drivers, rural farming families, students, printers, businessmen, academics, activists, and researchers as well as others make up the agencies involved in this fluid and dynamic ugahari network.
Komunitas Ugahari was initiated (in 2004) by Yoshi Fajar Kresno Murti, a graduate of architecture who studied anthropology, archiving, urbanism, and the arts of ordinary people. Currently, he lives and works as a gardener and literacy worker at the Api Menoreh Library, Gerbosari Village, Samigaluh, Kulonprogo, Yogyakarta Special Region.
Team
Ugahari's station construction team: Pak Zaini, Mas Lasiyo, Akmal, Pak Wono, Rohman, Rosyid, Nurul, Pak Tukiyo, and Solih.
The youth and women from Dusun Clumprit, Gerbosari, Kulonprogo, especially for the pestle work, and their daily life in handling coffee trees in the grove.
The youth from Dusun Nglambur, Sidoharjo, Samigaluh, who gave birth to Mengger Coffee, especially to Mas Udin and all those who work behind Mengger Coffee.
Joko Supriyanto and friends from SMI (Social Movement Institute) Yogyakarta for the font design as well as the onthel bicycle loan.
Logo Situmorang for the photographic work about Starling (Starbak Keliling) in Jakarta.
JJ Rizal and Komunitas Bambu, Depok, for the boarding and all the hassle.
Mala and Rumah Pulih, Depok, who hosted the construction team.
Maria Adriani, Gayuh Winisudaningtyas, Rangga Putra, Paul alias Fakhrurozi, Pak Min, for all the hassle in preparing this installation.
Kultur Kopi
The Drink of the Humankind
Batik, banner, painting, burlap
2022
To speak of coffee is not limited to speaking of it as a drink. Intricate events and history are contained in a cup of coffee that is served on our table almost every day, from colonialism, war, land struggles, capitalism, and trade competition between countries. From scattered sources, coffee was first discovered in Arabia and began to be traded at the port of Mocha, Yemen. Arab traders monopolized this commodity and privatized coffee plants. But, alas, privatization could not stop everyone's desire to get it, so coffee plants began to spread all over the world, along with its intrigues and myths.
Currently, almost 50 countries in the world have coffee plantations. In Java, coffee plantations were established in 1696 by the VOC. The development of these plantations was followed by harrowing stories, such as crop failure, forced cultivation, and social inequality between social classes. Privatization of coffee also happened in Java and coffee drinks were only for the top social class. However, it didn't stop anyone from acquiring, processing, and consuming it. Through legion stories and ways, eventually, all social classes started consuming coffee drinks.
Coffee is a virus. It can easily spread to all levels of society in all corners of the world regardless of class, caste, religion, race, and social structure. From conglomerates in cafes to farmers in stalls, from influencers at Starbucks to pedicab drivers at kiosks, everyone enjoys a cup of a drink called coffee. There is almost no type of drink that can exist across layers of society, helping to create a melting pot, like coffee.
Bio
GEGERBOYO is a collaborative project of Enka Komariah, Prihatmoko Moki, Vendy Methodos, Anjali Nayenggita, Dian Suci (2017–2022), and Ipeh Nur (2019–2022). Established in Yogyakarta Indonesia in June 2017.
Gegerboyo's works are heavily inspired by Javanese cultural traditions, urban culture, the relationship between the two, and their correlation with socio-political phenomena that are currently happening. Gegerboyo's method is like playing a role in a ketoprak show (a form of Javanese traditional performing art), each responding to the other, retorting spontaneously after previously agreeing on one big theme.
Gegerboyo is a vessel for experimenting, exchanging knowledge, and exchanging ideas, especially in relation to the Javanese culture and history and its development today.
The name Gegerboyo is taken from a hill on Mount Merapi that protects the people around the mountain from eruptions and pyroclastic flows. In Javanese, geger means 'back' while boyo 'crocodile', thus gegerboyo means 'the back of the crocodile'. This hill has an elongated, jagged shape that makes it look like a crocodile's back.
Team
Denny Febrian
Kedai Kebun Forum
Bapak Suhadi
Kopi Kini
Celebrating Coffee as Lifestyle
Wire installation, found objects, fashion and creative products
2022
Coffee not only gives birth to coffee shop brands scattered throughout Indonesian cities, but also to coffee-derived brands, from shoes to hats. Coffee really sparks countless ideas unimaginable before. Creativity springs from coffee. It flourishes like coffee itself, which stimulates or empowers, especially among young people.
Environmental sustainability is an urgent problem facing the world today. Coffee farmers are affected by climate change and fluctuating weather that are affecting coffee plantations. Also, the biggest challenge for coffee farmers in Indonesia is that they only earn income from coffee. It is high time now to participate and contribute to helping them in the face of every challenge and problem. The spirit of Komunitas Jenama Kopi to collaborate with the aim of fostering and producing creativity that empowers culture to realize sustainable Indonesian coffee must be actualized together.
Coffee is very dear to our daily life. It is not limited to a drink to be enjoyed, now it can also be explored in many ways, and one of them is fashion.
Bio
Smesta
This collection is a collaboration work of Handoko Hendroyono and Smesta made specifically for Filosofi Kopi. Every stroke tells about the life and journey of coffee in Indonesia, full of everyday passion and creativity. Handoko Hendroyono expressed his passion through these strokes, inviting collaboration in the form of wearable artwork to be used by the general public so that they can spread this passionate journey throughout the country.
Smesta is a provider of environmentally friendly digital printing services on fabrics made from natural materials. To reduce the carbon footprint in our production process, we use acacia wood material sourced from Kerinci which is grown sustainably and uses optimal water. The ink we use is certified to OEKO-Tex Standard 100, indicating that the ingredients used are environmentally friendly. Besides, we also reprocess the water used after the production process so that it is suitable for returning to nature.
@smesta_id
Popsiklus
We began in 2009 when some cleaning service staff didn't pay attention to milk cartons piled up at home because they were not of high value. Thus, an idea was born to give them a new soul and function, recycling them into artistic functional items. Popsiklus wants to spread the passion to popularize waste recycling to prevent it from immediately ending up in a landfill. Popsiklus believes that everything has the potential to be reused, including used milk cartons.
The Popsiklus Milk Carton Totebag is made from used milk cartons collected from Filosofi Kopi's shop, which have been thoroughly cleaned, collected, then sent to the Popsiklus workshop in Cimahi, West Java, to be re-sorted through a manual trimming process to create the leather-like texture, before finally being spliced ​​into large sheets as raw material for making products. When we think that something has no use value anymore, it will become trash. But if we see waste as a resource, then we can find ways to reuse it. Everything has the potential to be reused. Let's reimagine waste with us.
@popsiklus
GunaGoni
Used burlap sacks are waste. Since 2013 GunaGoni has only been able to collect very little waste from factories importing coffee, cocoa, and peanuts. Burlap sacks of coffee from Brazil, chocolate from Ecuador, and peanuts from Tanzania take a long journey before they reach Indonesia. So much energy is spent before a burlap is turned into trash. And then, is it time to throw it away? Alas! The remaining energy can still be processed into gifts, before finally decomposing on the ground. After being washed until clean, and processed wholeheartedly, musty sacks can be useful again. GunaGoni is a small, simple but real effort to make people aware that any industry produces waste. In fact, waste has actually been produced since the beginning. Not only industry, every individual is also a potential waste producer. Thus, GunaGoni would like to make used burlaps meaningful again.
Debbydbay
A product of collaboration between Filosofi Kopi and the local artist specializing in hand-painted custom shoes, Debbydbay. These shoes are dyed with Filkop Blend coffee powder which gives the impression of a 'vintage look' and makes the shoes have a fairly strong coffee aroma, resulting in unique shoes. After being dyed in coffee, the shoes are hand-painted again with images of living things, representing coffee that plays a major role in protecting the earth and is very influential for living things; humans, animals, and plants. We believe that achieving a goal requires many steps. These shoes are a real step towards Indonesian coffee of more valuable creations.
@debbydbay
Koleksi Karta
Koleksi Karta is a resort wear label that invites consumers to inch away from urban trends and enjoy the nature of Indonesia's coastal areas. In establishing its identity, Koleksi Karta departs from clothing in classic designs that use experimental techniques. The designs we choose always come from a simple philosophy that conceals complexity in the manufacturing process and the artisanal-like results. Diverse techniques are used to make unique and high-quality garments, such as double stitching, pattern making by laser cutting, and natural coloring by dyeing using coffee.
The Kopi Karta shirt is born from a philosophy close to the soul of Koleksi Karta, since, after all, a cup of coffee can only be truly enjoyed when we don't feel rushed. This shirt's design resembles a coffee sack with distinctive green stamping and stripes, using a burlap sack as the pocket material. The making of this shirt is not easy. Each shirt is dyed twice using original Indonesian coffee brewing and printed using the transfer print technique. The Karta coffee shirt is a reflection of a relaxing time, and we created it for coffee lovers in Indonesia.
@koleksikarta
craftdenim
CRAFTDENIM.ID is a movement to preserve the making of weaving culture in Pekalongan, which has been almost extinct, by making products that can be used every day by people from all walks of life. The regeneration of crafts workers and the use of natural dyes are priorities now and in the future. We would like to continue working without contributing to environmental pollution, especially in waste that can change the color of river water in Pekalongan. Furthermore, areas along the Pantura have a historical background for the natural indigo dye that produces a purplish-blue color. During the VOC colonial era, especially Cuulturstelsel, massive deaths happened due to hunger on the north coast of Java, which was known as the 'mass grave'. It was because VOC banned rice cultivation and ordered that every 1/5 of the people's fields should be planted with indigo plants (called nila in Indonesian). Not surprisingly, nila became the number two VOC export commodity from Java. craftdenim products are made from 100% woven fabrics without the use of machines at all. These products are very environmentally friendly due to the use of brewed coffee grounds and waste as their natural dyes.
Seniman
As a word artist, Iwan Esjepe tries to capture the words that overflow from the distinct aroma of coffee when it comes in contact with boiling water, to pick words from between the leaves and coffee trees in a lush garden, and those that hide behind the coffee grounds left on the lips of a beloved, and then to concoct them into a series of words full of meaning.
From the bitterness of coffee, Iwan Esjepe invites us to learn to find the sweetness of life.
@iwanesjepe
Kopi dan Kita
Point of Assembly
Scaffolding, graffiti on cloth, mixed media
2022
Coffee is now more than just the processed beans that we enjoy. Sometimes it becomes a friend amid deadlines, other times a company to enjoy the sunset, or still many other roles in our social life.
The work 'Point of Assembly' represents what happens when coffee acts as an entity that succeeds in bringing together people with different backgrounds, thoughts, and views of the world.
In a 'having coffee together' activity, cultural acculturation takes place as fresh ideas and thoughts are put forward. This is what this work tries to show. Four artists with different characteristics, joined in Mahavisual, responded to the media through their own artistic styles. Alphabad, Popomangun, Stereoflow, and Yessiow responded to coffee's meanings and roles in their lives.
This work becomes a point of assembly for these artists, just like coffee that sometimes acts the same. It brings laughter and gives birth to ideas, and sometimes: a disruption and revolution.
Bio
The four artists of Mahavisual present their responses to coffee in the everyday life of our urban society today:
POPOMANGUN
Popomangun is a multidisciplinary art director and illustrator based in Jakarta. His works are characterized by ethnic patterns and filled with contrasting psychedelic colors. These works usually contain mysterious meanings represented by the many characters in them. He believes that art must have the power to captivate and convey messages to the audience who delight in it.
YESSIOW
Yessi Nur Mulianawati a.k.a Yessiow is an illustrator and mural artist from Bali, Indonesia. Her love for art started around the age of five and began to grow into a career as a mural artist in 2013 when she was 17 years old.
One year later she started her graphic design studies at Telkom University in Bandung, Indonesia, where she graduated in 2018. After graduating, she decided to step out of her comfort zone and live a nomadic lifestyle abroad with her partner, Stijn. During their travels, Yessiow introduced him to mural painting and they seized the opportunity to build a street art career outside Indonesia, while also working as freelance digital illustrators online.
The murals they have worked on together can be found in several countries, such as Indonesia, Cambodia, Nepal, India, Turkey, South Africa, Italy, and many more. Yessiow's work is heavily influenced by her love of natural objects and vibrant colors, no doubt due to growing up on a tropical island. She enjoys seeing that her works in public spaces become part of the daily life of a local community, blending in with the activities of the people passing by every day.
STEREOFLOW
Stereoflow (Adi Dharma) is known for his iconic and colorful abstract style. His works are a combination of all the visual styles he has explored throughout his career. From graffiti to contemporary art, he deconstructs and filters everything to create a new identity.
Using simple shapes and colors, his works also interpret the '80s music atmosphere, which is simple and cheerful. He uses an abstract style in these works, hoping that people can feel a visual vibe rather than question their meanings. Just as reveling in music, we should just listen to it and enjoy it.
With a multimedia approach, Stereoflow's portfolio includes large-scale murals, paintings, prints, sculptures, and installations. The artist has also exhibited his works in the United States, Canada, Hong Kong, Thailand, Singapore, and Australia.
ALPHABAD
Alphabad is a graffiti artist based in Jakarta. His creative presentations focus on an exploration of letterforms and motifs that are influenced by graffiti esthetics and graphic design. His works are characterized by spontaneous responses to an empty space, leading to a game of puzzles in which each shape is connected to another. In addition to focusing on the physical space, Alphabad now also actively utilizes NFT as a creative medium.
MAHAVISUAL
Mahavisual is a creative studio as well as artist management based in Jakarta. The background of the founders, who have been involved in graffiti and street art since 2005, means that Mahavisual's works are often influenced by the esthetic experience of street culture.
Apart from being a commercial bridge between brands and artists, Mahavisual is also active in initiating various works through its member artists. Currently, Mahavisual manages four artists, i.e. Stereoflow, Popomangun, Alphabad, and Yessiow. Mahavisual is also the business representative of Gardu House, the largest graffiti community in Asia.
---
The Sketch Journal of Indonesian Coffee
Sketch collective works, mixed media
2022
This exhibition about coffee is a national collaboration of many urban sketching communities in Indonesia. Urban sketching is a movement to draw, record, and tell stories about a situation or circumstance based on direct observation at a location.
In recording and telling stories about coffee as a culture, we found various rituals, customs, and procedures for drinking coffee throughout Indonesia. Our fellow urban sketchers and their communities in Aceh, Medan, Bogor, Jakarta, Cirebon, Yogyakarta, Semarang, Pontianak, Makassar, and Ambon/Maluku enthusiastically visited coffee shops, both old and contemporary, connecting with pioneers of the coffee business or culture in their cities, spending time with performers of traditional rituals involving coffee beans and coffee drinks, even hanging out on the roadside to collect stories and documentation that shows how deep and rooted coffee is in the fiber of beings of the Indonesian people.
In an exhibition of works on paper, pages of sketchbooks, digital sketches on tablets, and alternative mediums, complemented by behind-the-scenes coverage, the sketchers' communities hope to inspire the general public in preserving coffee culture in this country while promoting journalism activities through drawing and writing as positive and inclusive activities full of color and taste, just as the diverse characters of coffees in this country.
Bogor
NGOPI HEULA BEH CEUNGHAR
MORNING COFFEE GATHERING
Like other cities with a shared tradition of coffee, Bogor has known coffee for a long time. In this city, there is a distinct type of processed coffee, called Liong Coffee. This famous coffee brand in Bogor was established in 1945 and was created by Linardi Jap. Thus, Liong Bulan Coffee has contributed to the coffee culture tradition since the revolution era. Today Liong Bulan Coffee remains the people's favorite coffee.
Apart from Liong Coffee, other coffees no less famous also emerged, i.e. Oplet Coffee, Agus/Cap Teko Coffee, and Piala Coffee. All of these brands have contributed to the tradition of hanging out in Bogor, an interactive activity between residents. Not infrequently, even though people don't know each other, by hanging out at a simple coffee shop by the roadside, they can talk in the company of pancong cakes, ginger tea, bajigur, sweet potatoes, boiled bananas, and of course coffee.
Jakarta
KUY NGUPI, CUY
BUSTLING URBAN COFFEE, JAKARTA
Jakarta's tradition of coffee consumption is incomplete without a coffee shop that has been around since 1927 called Kopi Es Tak Kie in the Chinatown area, Glodok. Today, we can still enjoy black coffee or milk coffee at this shop, which still feels like the old days while we sit and relax, chatting to while away the time.
COFFEE JOURNEY
This collaboration, between myself and Deni Dermanto (certified barista and Q grader) from The Espresso Embassy, tells a coffee journey from the plantations in Mount Halu and Mount Tilu, bean processing in West Java, all through to the roasting and serving experience in Senayan. It is a Jakartan coffee shop's attempt to introduce the farm-to-table concept, bringing a narrative from rural to urban areas. Through this effort, it can be seen that, before being served, a cup of coffee goes through numerous processes in order to maintain its best quality. This serial work is broken down into 3-4 scenes which produce a total of 10-15 images with varying sizes of A4 to A5.
THE RISE OF HOME MANUAL BREWING
The mid-2010s were marked by the heightening and bustling of contemporary coffee culture in Indonesia, especially in Jakarta and Bandung. In Jakarta, with its very fast-paced urban life, having coffee in cafes, outlets, or coffee shops requires more effort because consumers have to deal with traffic jams, parking, and waiting time. Hence, a new culture emerged, i.e. manual home brewing, among coffee lovers who prefer to make their own coffee. The preparation of this coffee serving consists of grinding, brewing, and preparing the coffee in a V60 vessel, AeroPress, or tubruk cup. With this, office workers can also enjoy high-quality coffee while working with colleagues in the office. This culture is then brought home so that we can find friends who at home are able to brew quality coffee in an upscale café's style.
Pontianak
NGOPI-NGOPI LOK KITE
Pancong coffee is served in half portions, usually for visitors at coffee shops who hardly have money. Pancong coffee became commonplace among traditional coffee shops in Pontianak. The portion is only half a glass, but consumers can chat for hours with their friends, lifting one leg on the table, smoking kretek, and eating sugar-apple cake dipped in a glass.
Cirebon
COFFEE AS A COMPLEMENTARY REQUIREMENT TO MUNGGAH SUWUNAN RITUAL TRADITION
Munggah suwunan (installing logs for the construction of a new house) is a tradition passed down from generation to generation. It is believed to be an expression of gratitude to the Almighty and as a symbol that a house's construction is almost complete. Of the various types of requirements in the procession, among them is black coffee brew in two cups placed side by side with milk, water, and sprinkled flowers. After all these conditions are completed, the procession proceeds by lifting the wood (laurel tree) together to the top of the ridge (highest part) of the house, followed by the call to azan and iqamat afterward.
Ambon
MARI KATONG MINONG KOPI DOLO
KINU KOPE, THE TRADITION OF "NGOPI" OF MALUKU
Speaking of coffee, the Moluccas, especially Central Maluku, that is Seram, Buru, and Lease (Ambon, Haruku, and Saparua), have been familiar with the coffee plant and culture long before foreign nations arrived and established coffee plantations in the archipelago. Coffee trees, like cloves and nutmeg, are native plants of Maluku, although their existence is not as popular as these latter two. As a native to Maluku, coffee trees grow wild. The old tradition of Kinu Kope, a prelude to conversations during bakumpul, or relaxing time after a day of work, is revived in Ambon and continues to be adapted to the times.
Among the many cafes or coffee houses flourishing in Ambon in recent years, there is Romie Kermite's Trotoar Coffee in Kudamati. What's unique about the cafe? The answer is, of course, none other than the Ariate coffee, the single origin from Ariate, West Seram, Maluku. There are some out there who call it by another name, Tuni Coffee. The word tuni comes from the Maluku language which means 'genuine' or 'true'.
Semarang
MOLI JIM KAS!
A TRACK RECORD OF THE DISTRIBUTION OF THE (FIRST) SEMARANG INDIES COFFEE (MARGO REDJO 1915)
Coffee culture in Semarang is inseparable from the Margo Redjo Coffee Factory in the past. The factory was founded by Tan Tiong Ie in 1915 in Cimahi, West Java. In 1928, he moved his coffee factory to Semarang, precisely in Wot Gandul. The Margo Redjo Coffee Factory made an important contribution to Semarang in the coffee exports to the Netherlands in 1929. Today, though the factory no longer operates, we can enjoy Indonesian coffee at Dharma Boutique Roastery, a roasting house owned by Mr. Widaya Basuki Dharmowiyono, a third-generation member of Tan Tiong Ie. This enterprise sells variants of Indonesian coffee, both Arabica and Robusta, purchased from local farmers either in beans or powder. Inside the Indies-styled house, there are jars of plenty of coffee types still in beans. You can also see some photos of the Margo Redjo Coffee Factory and its participation in the 1928 Semarang Fair. At Dharma Boutique Roastery, we can also enjoy coffee right away, in the courtyard where tables and chairs are available, just like a coffee shop. Not only having coffee, we can also see old roasting machines imported from Europe in the 1930s.
Yogyakarta
NGOPI SIK LUR
BLANDONGAN COFFEE
STUDENT MEMORIES, MOVEMENT, AND THE SIGNATURE BLANDONGAN CUP
It is a coffee place that remains a students' destination in Jogja. It is not only a place to relax but also to discuss everyday issues, from the politics of regional elections to criticism of the post-reform economic recovery. Established in 2000, apart from revolutionizing coffee drinks and the appearance of coffee shops in Jogja, Blandongan holds collective memories for those who studied in that city and were active in student activism at the time. While maintaining a simple and authentic style, Blandongan survives amid the crowding millennial cafes and coffee shops with typical templates.
Makassar
NGOPI-NGOPI ROONG!
DOTTORO' COFFEE AND PHOENAM COFFEE
Founded in the 1960s and owned by Daeng Naba who started his career as a coffee brewer at the age of 12. Back then he was just a dishwasher in his uncle's warkop (coffee shop), who had no children. No doubt, the uncle passed on the knowledge of making coffee to him. Next, Daeng Naba bought the coffee shop of Daeng Ngawing who left to migrate. This shop was a former warehouse on Jalan Tinumbu, which was valued at Rp7,500 in 1965. Not long after, the Daeng Naba shop moved to a shophouse behind that location. Initially, it was called Warkop 75, but then people still called it Warkop Daeng Naba. In 2003, Daeng Naba tried a bit of luck with the name, joking that having coffee and a meal at a shop was like going to the doctor. Thus, the name Warkop Dottoro ('doctor' in the Makassar language) was born.
Using Toraja coffee, the legendary milk coffee variant here is served with a frothy surface (the hallmark of tarik coffee). It has become commonplace that a cup of coffee milk that we order lands on the table in a 'muddy' condition. Phoenam, founded by Liong Thay Hiong in 1946, is the pioneer of coffee shops in Makassar. Initially located on Jalan Nusantara (right near the port), in 1994 Phoenam moved to Jalan Jampea (Chinatown area). The word phoenam comes from Mandarin which means 'terminal/transit point in the south'. The visitors vary, ranging from businessmen, office workers to politicians. The Phoenam branch, which is located on Jalan Boulevard, is a favorite place among Makassar's political elite. Towards an election or local election, political lobbying activities in the shop always increase.
Aceh
JEP KUPI DILEE BAH BEK PUNGOE
KUPI KHOP
Kupi Khop, or covered coffee, comes from the West Coast of Aceh, specifically Meulaboh. The story has it that Kupi Khop, which is deliberately served upside down, originated from fishermen's habit on the west coast of Aceh who had to leave coffee breaks to catch fish first. It is done by intentionally putting coffee upside down so that it stays warm even though being left for a long time. "To keep the coffee warm and not contaminated by dust and dirt, the glass is turned upside down, so that when the consumer returns, after fishing in the sea, they can still enjoy their coffee again."
Medan
MARKOMBUR & NGOPI DULU BAH!
Markombur is a tradition of having coffee while conversing in Medan and its surroundings. It is usually done in coffee shops, with topics from everyday life, politics to business invitations. A coffee shop in Medan is not just a place to have coffee while chilling but also a place to build relationships.
Coffee shops in Medan and its surroundings have diverse styles, each with its fans. After the early generation of shops that served black coffee in the 1920s at Kedai Kopi Apek (Medan) and the 1930s at Kedai Kopi Sedap (Pematang Siantar), nowadays there are coffee stalls at affordable prices that become the choice among lower-class workers and modern cafes with copious types of coffee. No one realizes while markombur but the cup needs a refill! Have a cup of coffee first! Let your body freshen up a bit!
Bio
Indonesia's Sketchers (IS) is a non-profit community founded in 2010, and initiated and inaugurated in Jakarta. Along the way, IS has become a forum and source of inspiration for the development of similar communities (of drawing and storytelling) throughout Indonesia. In this coffee exhibition, IS is collaborating with its branches and affiliated communities such as: IS Jogjakarta, IS Makassar, IS Pontianak, Bogor Sketchers, USk Medan, KOSKAH Aceh, Semarang Sketchwalk, Cirebon Sketchers, USk Bali, and Maluku Sketchwalk. IS carries out the mission of reporting about Indonesia through storytelling and on-the-spot (OTS) drawing activities. This community is open for public and free. Anyone who loves learning to draw OTS (including those who think they are not talented) and wants to deepen their love of drawing while sharing stories with the world about Indonesia can join. HAPPY SKETCHING!!
Team
Indonesia's Sketchers Central
Indonesia's Sketchers Jogjakarta
Indonesia's Sketchers Makassar
Indonesia's Sketchers Pontianak
Bogor Sketchers
Urban Sketchers Medan
KOSKAH Aceh
Semarang Sketchwalk
Cirebon Sketchers
Urban Sketchers Bali
Maluku Sketchwalk
Kopi Merdeka